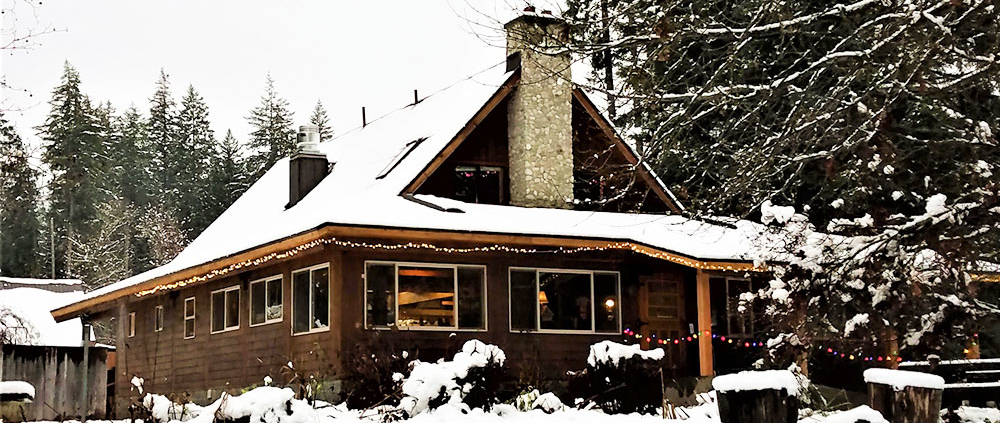 The Stehekin Pastry Company is opening for winter hours!
The famous Stehekin Pastry Company, renowned by hikers, boat-trippers and locals alike has a special holiday treat this year! The Bakery will be opening its doors Friday, Saturday, Sunday and Monday, December 27th-30th from 11-2 for folks to come enjoy hot lunch and delicious treats that are not usually possible to get during the off-season. The Lake Chelan Boat Company will run the Lady Express on an additional run, Saturday the 28th to help folks get up to Stehekin to enjoy this unique opportunity!
The Stehekin Pastry Company has been operating for 30 years under owners Robbie and Cragg Courtney. The bakery started out small and simple and has progressed and expanded as business has grown. The first renovation was many years ago, it was an addition to the original building to add more seating and a deli area. Last spring, the bakery moved all the souvenirs and merchandise, which had been in a corner of the bakery, over to a small gift shop adjacent to the bakery. Just this winter, the whole roof was reinsulated, and a covered walkway was added to the front of the building to make the bakery winter-friendly.
The bakery usually closes in October and doesn't reopen until mid-May. Many valley residents stock up on bread, pizza and pastries to freeze and then pull out during the winter months for a special treat. But, there is no comparison to the fresh-out-of-the-oven option!
Taking the Lady Express up to Stehekin and having lunch at the Stehekin Pastry Company is the perfect activity for the holiday season. During the week between Christmas and New Years it is often difficult to find activities to fill the days and this is a fantastic option whether it be with a friend, significant other or your whole family!
Departing the Chelan boat dock at 10am and returning at 4pm gives you the best of the daylight hours to enjoy the beautiful views of the snow-capped cascades and snap some great photos. You can enjoy hot coffee or tea as well as snacks on board the boat and still make it home before dark!
https://ladyofthelake.com/wp-content/uploads/2019/12/post1.jpg
645
1000
ladyx
http://ladyofthelake.com/wp-content/uploads/2022/04/logo.png
ladyx
2019-12-19 23:11:15
2019-12-19 23:11:15
The Stehekin Pastry Company is opening for winter hours!